Juan Diego Catholic High students to kick off theater season with "Godspell"

Oct 02, 2017 03:48PM ● Published by Jana Klopsch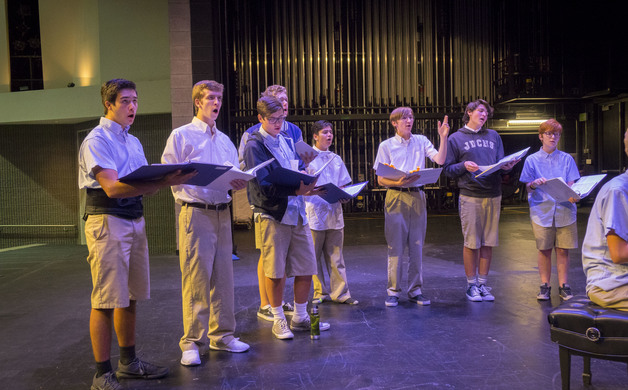 The cast of "Godspell" rehearse in preparation of performances starting Oct. 26. (Joe Crnich/JDCHS)
Gallery: Theatre [2 Images] Click any image to expand.
Juan Diego Catholic High School's theater season will take audiences from a royal palace in 14th-century Elsinore, Denmark where young Prince Hamlet learns his mother already has remarried his dead father's brother, to the retelling of the Gospel of Matthew set in modern-day New York City.
First up for about 20 Juan Diego Catholic High theater students this fall will be to perform "Hamlet" Thursday, Sept. 28 through Saturday, Sept. 30 in the 41st annual junior high and high school Shakespeare competition, hosted by the Utah Shakespeare Festival and Southern Utah University in Cedar City.
"'Hamlet' is the greatest play ever written and after seeing it in the round, I fell in love with it," said Juan Diego's theater director Joe Crnich. "It's a fascinating play and the kids love performing Shakespeare. They read it this summer and hit the ground running with soliloquys ready to perform the first day of school."
In addition to performing at the Shakespeare festival, students also will perform it Thursday, March 15 through Saturday, March 18, 2018 at the school, 300 East 11800 South.
The first show on Juan Diego's stage this season, however, will be "Godspell," where on behalf of John the Baptist, men and women forsake their jobs to become the disciples of Jesus Christ. They then retell the Gospel of Matthew in modern-day New York City through song and dance.
"This is a great show with fantastic music. Some of our kids know it and some don't, but it's a musical that tells the story of forming a community and how disjointed it can be at the beginning, but how they come together in the end," Crnich said. 
The 50-member cast, which will include up to a dozen St. John the Baptist Elementary students, is family friendly and will have a live rock band performing alongside the actors. The set will include a back wall mural, tagged with "tasteful" street art.
Jesus is played by senior Thomas Moore and John the Baptist and Judas by sophomore Gabe Veltri. The music will be under the direction of Cameron Brownell, choreography by Shelti Thompson, costumes by Katie Rogel and lighting design by Adam Day.
"We're a tight bunch in theater, so this really adds to the practice of what we preach," Crnich said. "It's a show that everyone remembers."
The show will be performed at 7 p.m., Thursday, Oct. 26 through Saturday, Oct. 28 and a 2 p.m., Sunday, Oct. 29 matinee in the high school auditorium. Tickets are $5 for students and $8 in advance.
For the holidays, the students will perform in "Lux Die," a performing arts night at St. John the Baptist church on campus. The 90-minute show will feature music, dance and theater and will be performed at 7:30 p.m., Saturday, Dec. 9 and Sunday, Dec. 10.
Also in the spring, Juan Diego students will perform their one-act piece, "Why the Lord Came to Sand Mountain," Wednesday, March 21 at the regional competition.
Created by American dramatist Romulus Linney, the short play tells about Jesus and St. Peter looking for a place to spend the night with a family in Kentucky. While they may not approve of the family's lifestyle, they are warmed by the hospitality and tell their life stories.
"It's really a funny and moving story that we will also showcase here at the school in early May," Crnich said. "This season we're trying to expose our students to more varieties of great literature to perform."
This season's shows are amongst the shows Crnich wants students to learn during their four years at the school: Shakespearean pieces, classic American dramas, contemporary pieces and classical musicals. 
Education
,
Today